It appears that Starlink is operational on at least one Royal Caribbean cruise ship.
Royal Caribbean hasn't announced a rollout plan since news broke that it signed a deal with SpaceX to provide Starlink internet on all of its ships, but cruise fans have started noticing changes.
Over the past two weeks, teams from various Royal Caribbean cruise ships have been deployed to install Starlink.
It appears that the Independence of the Seas is the first ship to activate the proverbial switch.
RoyalCaribbeanBlog reader Jeff Robinson noticed while browsing Independence of the Seas weekend which concluded on Monday that speed tests showed Starlink was active.
Independence of the Seas is currently sailing short 3 and 4 night cruises to the Bahamas.
The plan is for every cruise ship in the Royal Caribbean group to add Starlink by the end of the first quarter of 2023.
Other cruise passengers have confirmed that Starlink is being added on Enchantment, Liberty, and Allure of the Seas. Other ships may also be in the process of getting Starlink.
Independence of the Seas speed tests
With Starlink seemingly active on Independence of the Seas, I was curious to see how well it was performing.
I had Mr. Robinson run some speed tests just to get some raw numbers. Keep in mind that these tests were conducted in cloudy weather, which could impact speed results.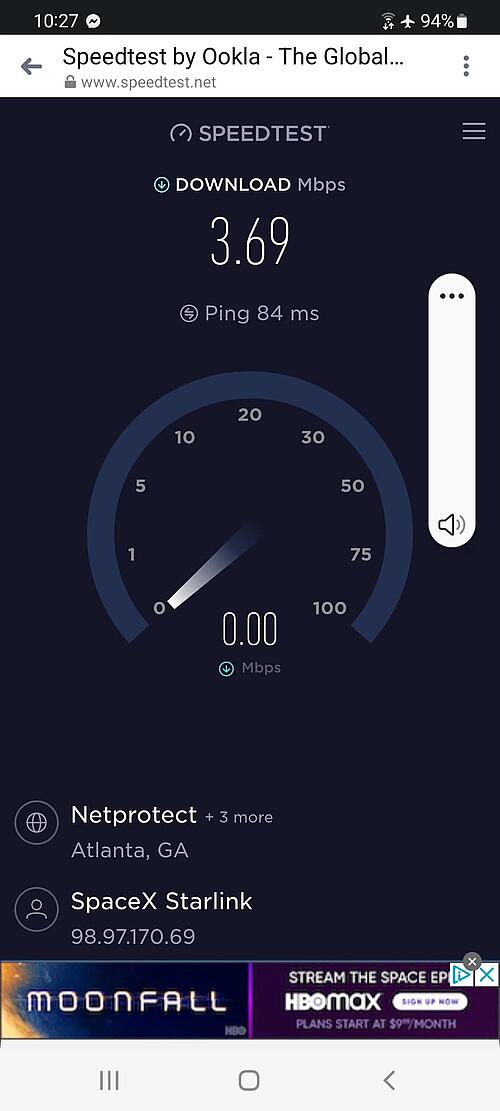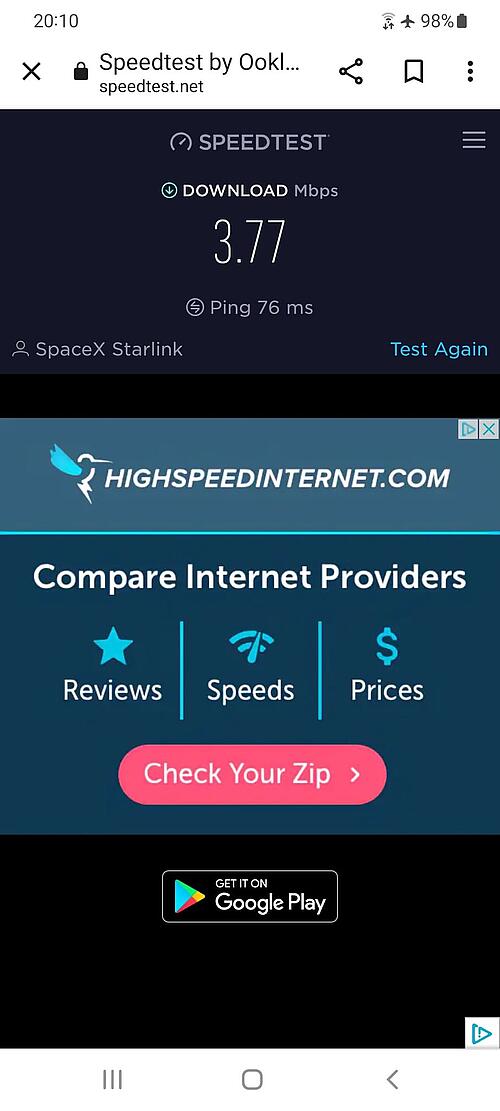 The most important number here isn't actually upload or download speed, but rather latency.
Ping is your connection's reaction time – the speed at which you get a response after sending a request. Prior to Starlink, the ping was generally pretty bad, with times measured in the hundreds of milliseconds. A fast ping means a more responsive connection
Ping below 100 is fantastic. My home cell phone test had a ping of 65 milliseconds, which is very close to Starlink speed.
Allure of the Seas next?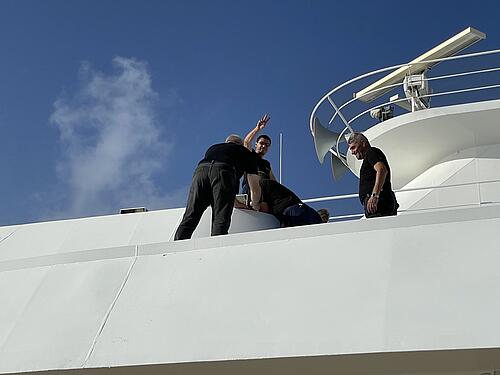 As noted, Royal Caribbean hasn't released any type of rollout schedule, so we have to figure out for ourselves when each ship might get Starlink.
RoyalCaribbeanBlog reader Michael Fenstermaker shared a report from Allure of the Seas on board on Sunday, saying the team there are almost done with their work.
"The Starlink team is nearing completion of the antenna installation on the Allure of the Seas," Mr Fenstermaker said in a tweet.
What you can do with Starlink
The promise of a better internet means better performance for everything you do online on the ship.
Royal Caribbean says the new service will improve and enable more high-speed activities like video streaming as well as activities like video calling.
Starlink is an interconnected internet network of thousands of satellites in low Earth orbit that SpaceX says will provide high-speed internet access anywhere on the planet. The company has launched about 2,700 satellites to date.
How much will wifi cost with Starlink?
Royal Caribbean has not yet announced any price changes for its wifi plans.
For the Independence of the Seas cruise, the internet package costs for guests were the same as before.
The cruise line has neither confirmed nor denied any wifi rate updates.
When asked, a Royal Caribbean spokesperson said, "We expect to share details with guests, crew and travelers soon."