Royal Caribbean cruise ships undergo drydock every few years for routine maintenance and refurbishment, but why are drydocks necessary and how does the process work?
Whether you've read about it online or heard another passenger or crew member talk about a ship's next drydock, you might be wondering what that entails.
Just like when your car needs to be repaired and hoisted onto a lift, cruise ships need to perform "under the hood" work to keep it running smoothly.
What is a cruise ship drydock?
A drydock is a narrow basin that can be filled and emptied with water to allow maintenance and repairs to a ship's hull.
Since the hull remains underwater at all times, it is necessary to remove the vessel from the water from time to time to clean the hull and perform routine vessel maintenance. Royal Caribbean ships typically have a drydock once every five years.
For a ship to enter dry dock, the basin must first be filled with water, allowing the ship to navigate safely. Once the vessel enters the drydock and is in the correct position, the door is closed and the water is drained out.
Drydocks are also used during the construction of new ships. Because ships of course cannot be built in water, they are built on dry dock which can then be filled with water to allow the ship to sail safely once built.
What type of maintenance and repairs occur during a drydock?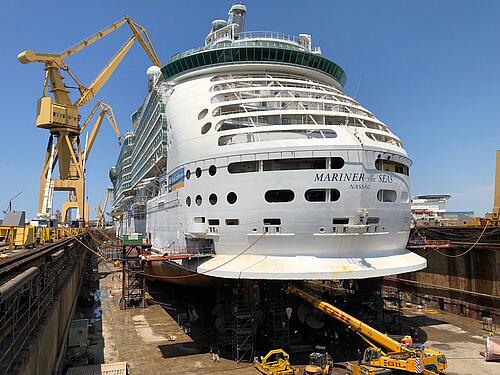 While in drydock, ships undergo routine mechanical work as well as checks on propeller blades, thrusters, stabilizers, navigation software, etc. If something needs to be replaced, it will be replaced during this period. The ship's hull is cleaned during drydock with a pressure washing system and usually repainted.
Parts of the exterior and interior spaces of the ship are also repainted during the drydock. When Harmony of the Seas was dry-docked in 2021, for example, the shipyard estimated that they would use around 8,000 liters of paint on the ship!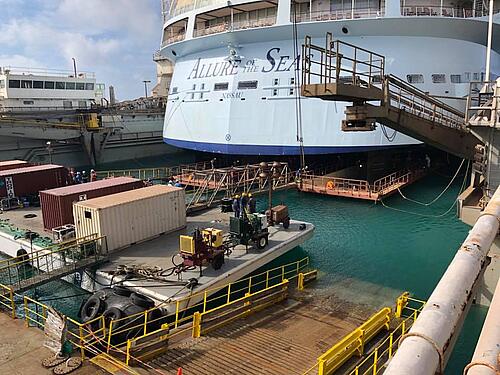 Drydock is also a time for interior renovations such as adding new coats of paint and replacing floors, bedding, curtains, etc. Anything that cannot easily be done while a ship is in service will be done while in drydock (deep cleaning of spaces on board, adding new places, etc.).
Why does the ship's hull need to be cleaned?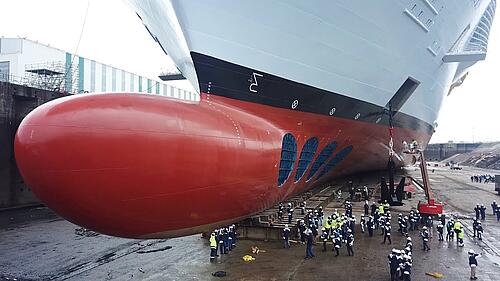 If routine cleaning of a vessel's hull is neglected, it can lead to buildup of marine line on the hull, known as biofouling. Barnacles, shells, algae and other forms of sea life can live on the hull.
Most notorious are barnacles, a crustacean related to lobsters and crabs, which must attach themselves to a hard surface to develop into adults. In fact, the natural "glue" used by barnacles to attach themselves to the hull of a ship is so strong that researchers have tried to mimic the sticky stuff for commercial and medical use.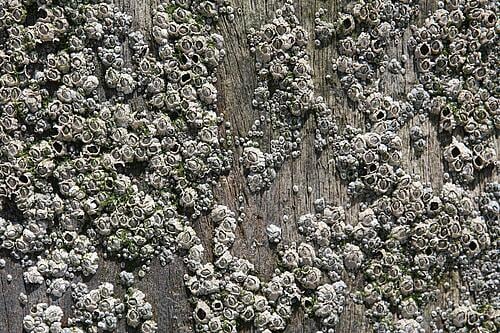 This, of course, poses some key issues for ships. First, an accumulation of marine life can cause more drag, which reduces vessel speed, increasing both fuel costs and carbon emissions.
It also means that marine life can be transported from one region of the world to another, which has a potential impact on the environment as existing ecosystems can be affected by new types of marine life.
Therefore, regular dry dock maintenance to clean the ship's hull can help address this issue and ensure that there are no large accumulations of marine life on Royal Caribbean's ships.
Renovations and extensions
During certain dry docks, Royal Caribbean ships will undergo major upgrades or upgrades as part of Royal Caribbean's Royal Amplified program.
Royal Caribbean uses two terms to modernize its cruise ships: renovation and amplification.
Renovations are small improvements made to a ship, such as upgrading cabins, revamping an existing venue, changing a specialty restaurant, etc. Amplifications are more extensive renovations where Royal Caribbean "amplifies" an older ship with many popular features found on newer cruise ships in the fleet.
Related: What was added to every Royal Caribbean ship during its Royal Amplified refit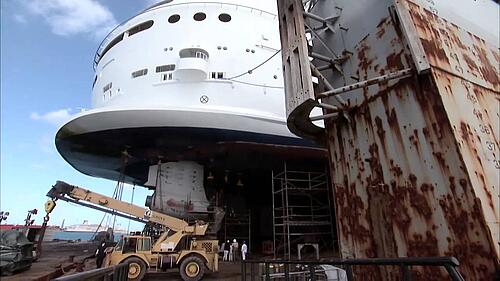 Boosts can include the addition of water slides, new cabanas, revamped pool decks, several new bars and restaurants, and activities like an escape room, laser tag, and bungee jumping.
Drydocks take cruise ships out of service for about two weeks for routine maintenance, but boosts can take over a month.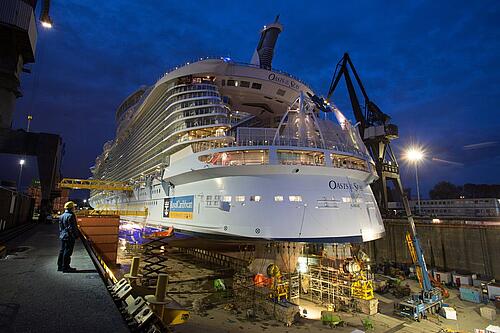 When Oasis of the Seas received its boost in 2019, which included the addition of waterslides, the Ultimate Abyss, a Caribbean-style pool deck, and new restaurants, it took a total of 63 days.
In fact, when Oasis of the Seas was expanded, almost every location was touched by workers to repair, improve, or modify the space. About 800 tons were added to the ship when all the work was done.
Every day counts in dry dock
When a cruise ship is due to go into dry dock, it means the ship will be out of service and it means there will be no revenue for that period.
Similar to how an injured professional athlete can't help the team win, a cruise ship that goes to work won't improve the cruise line's bottom line.
Over 2,700 contractors were on board Oasis while the ship was in dry dock in Cadiz, Spain to get the job done on time.
Oasis was out of service for 63 days in order to do all its work, which represents a significant investment by the cruise line. The time would have been much less had they not decided to upgrade the ship, but the short term financial impact is offset by increased revenue and increased bookings when the ship is back in service.
Planning a cruise? start here: