The USS Jacob Jones, the first American destroyer to be sunk by enemy fire, has been found.
The wreck of the First World War destroyer was discovered on August 11 by members of Britain's Darkstar dive team 60 miles south of Newlyn, Cornwall, Darkstar team member Steve Mortimer said. in a Facebook post. The Naval History and Heritage Command also announced the discovery on Twitter.
"Nothing has been removed from the wreckage site and we will liaise with the US Embassy in the next steps," Mortimer wrote.
The Tucker-class destroyer (DD-61) was commissioned on February 10, 1916, and deployed to Europe on May 7, 1917, about a month after the United States entered World War I.
The ship participated in several salvage operations that year, according to the Navy. After the British steamer Valetta was sunk by submarine fire in July, the Jacob Jones picked up 44 survivors. That same month, the British liner Dafila was sunk by a torpedo while being escorted by the Jacob Jones, which saved 25 survivors. The Jacob Jones picked up another 305 survivors from the torpedoed British cruiser Orama while on an escort mission between Ireland and France.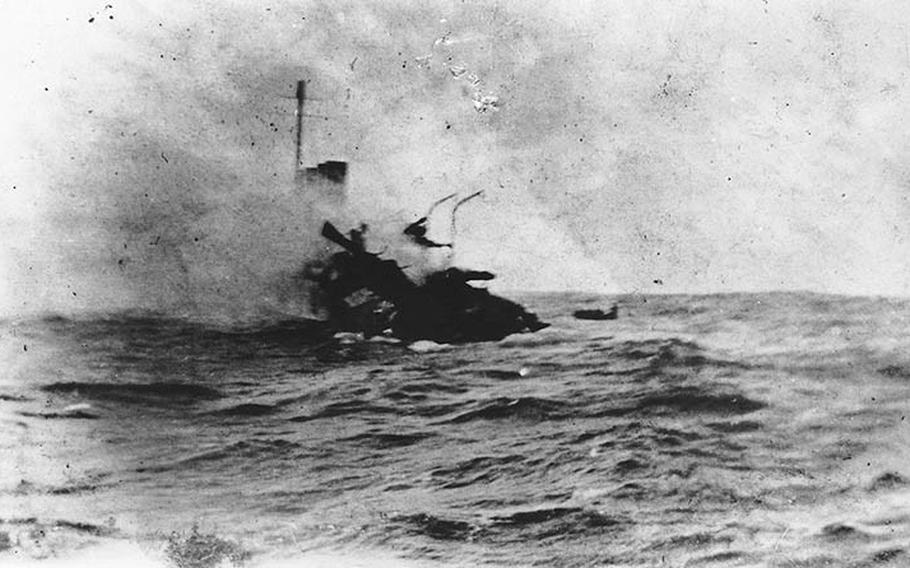 The Jacob Jones was hit by a torpedo on December 6, 1917, 25 miles south-east of Bishop Rock, Isles of Scilly, and 20 miles east of Start Point, England, while steaming headed from Brest, France, to Queenstown, Ireland. The destroyer sank eight minutes after being hit with two officers and 62 men still on board, according to the Navy.
Two injured survivors were taken prisoner by the German submarine U-53, which surfaced shortly after the sinking. Survivors floated on life rafts, boats and drifting debris as the British sloop of war Camellia and British ocean liner Catalina carried out rescue operations overnight.
Of a crew of 110, 64 men died. Lt. Stanton F. Kalk, deck officer when the torpedo hit, died of exhaustion and exposure while helping his crewmates into lifeboats, and was posthumously awarded the Service Medal Distinguished from the Navy. Chief Boatswain Harry Gibson and Chief Electrician LJ Kelly received the Navy Cross as well as letters of commendation with Chief Boatswain Charles Charlesworth, according to the Navy.